Region II
FDNYSmart Safety Tips for Devices with Lithium-Ion Batteries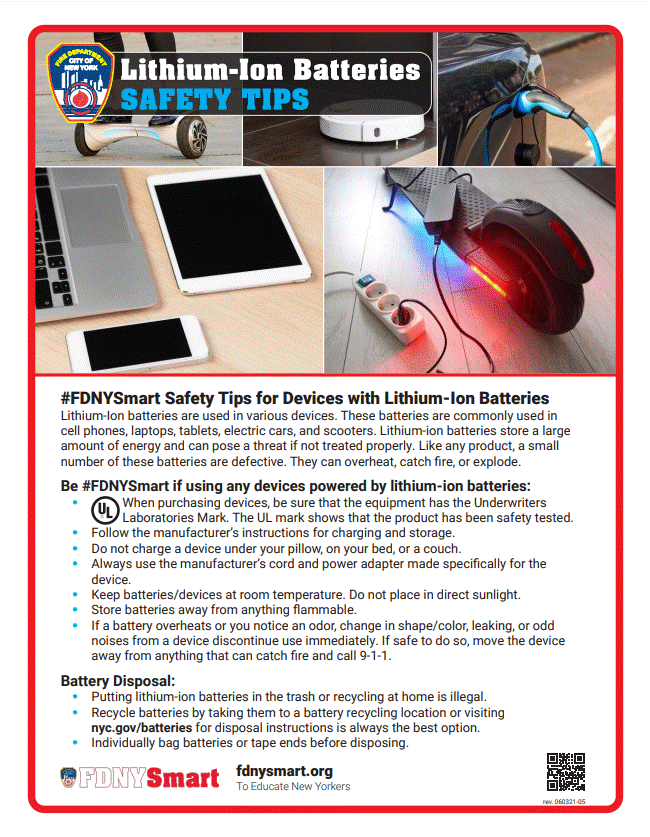 "Saturday morning's 3-alarm fire at 429 East 52nd Street in Manhattan injured 38 people – two of them critically. "The cause of this fire is a lithium ion battery which is meant to power a micro mobility device. This is close to our 200th fire this year caused by lithium ion batteries from micro mobility devices. The fire was right behind the front door, we recovered at least five bikes from the apartment. We want to stress our lithium ion safety tips," said FDNY Chief Fire Marshal Daniel Flynn ( https://www.facebook.com/FDNY ).
As New York City grapples with fires stemming from lithium-ion batteries, the FDNY is providing educational materials online (including a three-minute video).
https://www.fdnysmart.org/be-fdnysmart-when-using-any-devices-powered-by-lithium-ion-batteries/
https://www.fdnysmart.org/wp-content/uploads/2021/12/FDNY-Lithium-Ion-batteries-060321-05.pdf
The recent NFPA email chain ( https://go.nfpa.org/webmail/14662/1670325732/b7158798334ae32b6b7aad3e59a505a9c66d673aa7465261ce3f917f05ce9aec ) also has free information and resources about this specific fire hazard: https://www.nfpa.org/ebikes
Please consider sharing this information with your coworkers and contractors."